When it comes to Out-of-Home Advertising Lift and Escalator Branding is a high impact, huge footfall concept which generates information messaging, as well as high returns for your chosen marketing campaigns, directly in front of your captive audience. We are the experts in the field of vertical transport signage, and offer a comprehensive solution from concept to installation. If you are looking for digital AI technology lift door projectors and screens, static lift door vinyl or full escalator wraps and escalator and travelator handrail sanitiser units, we offer you the desired solution – Welcome to MotionIcon UK & Europe.

High Impact
Quality patented design, hard wearing materials and expert installation combine to create high impact designs to promote your business right in front of your targeted audience. Our large format Out-of-Home (OOH) advertising medium is visual and captivating from both near and far. Keeping your customers safe and your assets clean are also our priority… a clean environment is a safe environment with our cleaning and sanitising solutions.
Huge Footfall
With tens of millions of lift and escalator users every day, there's no avoiding our innovative vertical transport branding campaigns. We work globally offering venues such as sports stadiums, public thoroughfares, shopping malls, airports, stations, and various other high foot traffic environments to suit your campaign requirements.
Creative Opportunities
Our designers work with you to create stunning moving media designs which will enhance your marketing strategy, directional flow messages, safety campaigns and brand awareness. From digital or static lift door designs, to escalator wraps inclusive of steps and side graphics, we offer total dominance in our sector.
24/7 Marketing
Once installed by our MotionIcon UK & Europe and CHAS accredited team your moving media campaign is always on display – 24/7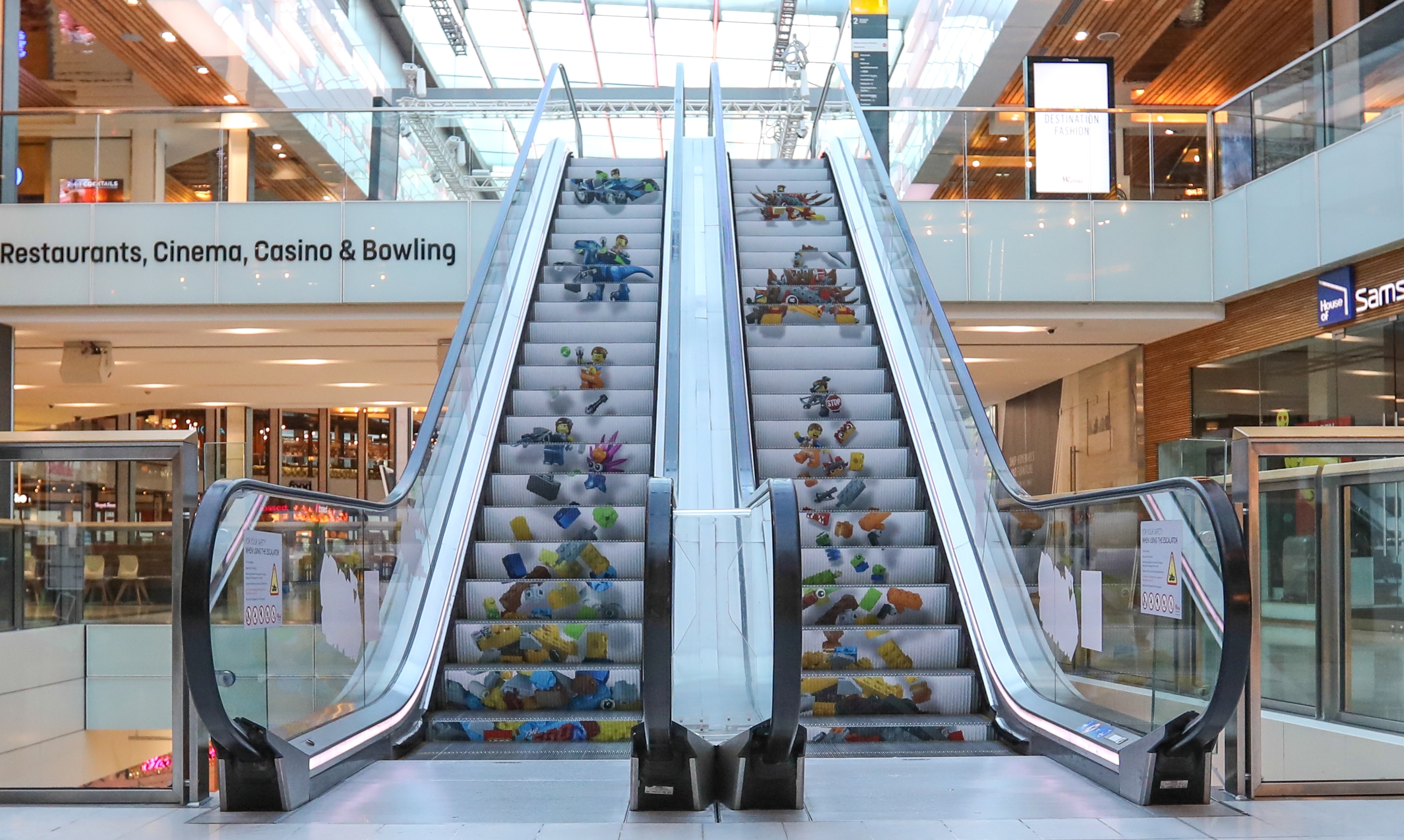 ESCALATE|YOUR BRAND
MotionIcon UK & Europe provide a fully comprehensive service to escalate your marketing campaigns to the next level. Our professional team manage all aspects of the process, beginning with a clear brief of your requirements, before helping choose locations, creating stunning graphics and finally installing your customised advertising campaign or safety signage requirement.
OUR|PROCESS
Our team are the one-stop solution for your vertical transport needs. Beginning with your brief, MotionIcon UK & Europe work closely with you to design a professional campaign, select the correct format whether on a lift door or escalator, static or digital, installed using the highest quality materials. We monitor all campaigns during the display time ensuring that your chosen campaign is always kept in pristine condition. Our digital solutions offer the latest in AI reporting technology, offering you the most accurate reporting to date.
MotionIcon UK & Europe are proud to have worked extensively for global clients big and small – contact us today to see how affordable and effective escalator and lift branding campaign can be.
TAKING YOUR BRAND TO THE|NEXT LEVEL
Effective, affordable, powerful – learn how a lift and escalator campaign can escalate your business to new heights and take your brand to higher levels.
AFFORDABLE|SOLUTIONS
With a realistic budget targeted to each client, you'd be surprised how affordable lift and escalator branding is. Each lift or escalator advertising campaign is tailormade to your specific requirements.